Jamie Johnson
November 28, 2011
Intentional Living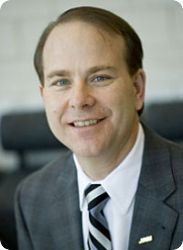 Over the past year, I have experienced the loss of 4 more people in life. I have seen 4 caskets. However, the last one was different. It didn't make sense like so many things in this world. In the last casket laid my friend Dr. John B. Noftsinger, Jr., who died November 10, 2011, just 20 days shy of his 49th birthday. He wasn't well into his 80s like the others I had lost. John, it seemed, wasn't supposed to die, but he did.
While one could be tempted to ponder only the tragedy of his death, I began to think also about his life. I read in his obituary how many things he did. His obituary took 3 columns in the newspaper. John touched many lives. He touched mine. I remember some of his last words to me after one of our many floor hockey games: "Jamie, I'm proud of you. You played well today." John was like a coach to me and I had looked forward to many more games with him. John lived intentionally.
I remember in October 2010, after one of our games, John and I were talking in the locker room. He was a soccer parent like others I know. He had a busy schedule. I asked him if he was the type of person who just wanted to "get through" the season or if he enjoyed it. John said that he wouldn't do it if he didn't enjoy it, if it wasn't something about which he had a passion. John lived life with a passion.
I thought about John's life and his words. How about the rest of us? Are we living life passionately with intention? Are we just coasting through or are we living to impact those around us? Hundreds showed up at the viewing and celebration services after John's death. These were lives he touched. Who will show up at your funeral? Whose life are you impacting? Start today. Start at home, work, and go forth. You are not guaranteed tomorrow, no matter what the circumstances. John enjoyed fine dining and scored several goals in a hockey game during the evening of his death. He was in shape. To anyone, it seemed, he was guaranteed tomorrow, but he was not. Neither are you. Neither am I.
It is time to live life with purpose on purpose. To what has God called you? Are you doing it passionately? No matter what it is, if you are doing what God has called you to do and are doing it passionately, then you will make an impact. Don't fall into the temptation to think that you cannot make an impact or that what you do is not important enough or even worse that "someone else will take care of it."
While being mindful of eternity, are you joyful where God has called you? If you are just wanting to "get through this" to the next thing, are you really living? Take the opportunity to really live...now while you have life.
~ In Memory of Dr. John B. Noftsinger, Jr. ~
November 30, 1962 - November 10, 2011
---
Ichthus Library: Personal Works