Jamie Johnson
11 July 2020
Walking with Coffee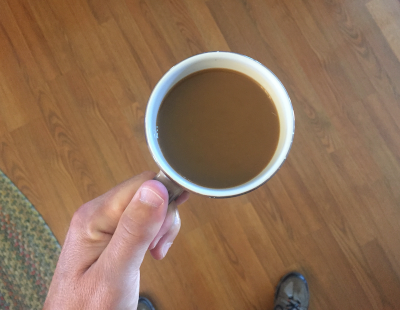 Do you ever notice that when you walk with coffee, it seems to slop over the edge when you focus on it? I've found that when I focus on where I am going I tend not to spill a drop and I think there's application there, metaphorically speaking.
We all walk around with problems and trials. If we focus on the hardship, it may bring more difficulty. Rather, we should focus on our destination in Christ.
Recall the words of Paul in Philippians 3:12-14 (NIV):
Not that I have already obtained all this, or have already been made perfect, but I press on to take hold of that for which Christ Jesus took hold of me. Brothers, I do not consider myself yet to have taken hold of it. But one thing I do:
Forgetting what is behind and straining toward what is ahead, I press on toward the goal to win a prize for which God has called me heavenward in Christ Jesus.
Isaiah. 43:18 (NIV) says the following:
Forget the former things,
do not dwell on the past.
And in the Philippians 3 passage, the phrase "press on" means to "bear down." This means to push with all I've got. Now, I'm not promoting works-based salvation, but I am promoting participation, willingness and desire. And the metaphor does break down a bit with the coffee as one might make quite a mess with a mug in his hand if he were to "bear down." Yet, there is application. Am I pursuing Christ and taking my troubles to Him? I have to be moving towards Him and focus on Him if I am to take them to Him. Jesus said in Matthew 11:28-30 (NIV):
Come to me, all you who are weary and burdened, and I will give you rest. Take my yoke upon you and learn from me, for I am gentle and humble in heart, and you will find rest for your souls. For my yoke is easy and my burden is light.
And 1 Peter 5:7 (NIV) says,
Cast all your anxiety on Him because he cares for you.
How much anxiety? ALL.
The coffee analogy doesn't mean ignore problems. You have a mug in your hands! You carry all your anxiety to Jesus. Many times, I've referred to the event where Peter walked on water towards Jesus (Matthew 14:29-31). He walked fine in faith with focus on Jesus -- when he pursued Jesus. When he focused on the troubles -- the crashing waves and wind -- he sank. Yet, even then, Jesus rescued him. To look towards Jesus is faith.
What are the waves and wind in your life? What are you distracted by? Are you pursuing Jesus? Is He your destination? Are you focused on the problems and making a bigger mess of them? Or are you focused on Jesus as you bear down and cast all of them on Him? He is Lord. He is God. He bore the weightiest burden at the cross and conquered death. He offers to take your burdens and your sin and give you freedom in Him as He imputes to you His righteousness. Have you placed faith in Him that this is true in your life? If not, may you do so today. He is saying, "Come" as He did to Peter (Matthew 14:29a). Is He your destiny? Press onward to Him and in His strength.
---
Ichthus Library: Personal Works